Today was the last pick up for the Fresh Fork CSA winter subscription.  Now, we have to wait until the week of June 4th for the summer season to begin.  Meanwhile, this week's pick up is definitely pizza themed.
Here's what we were expecting to receive this week:
1 8 oz. package smoked gouda
2 frozen pizza dough balls
1 lb. Italian sausage
1 lb. ground turkey or chicken
2 lbs. rolled oats
1 pint pizza sauce
1 package veggie burgers (2 burgers)
1 bunch ramps
1 veg (will likely include kale, chard, spinach, lettuce, and other spring greens)
Here's a group shot: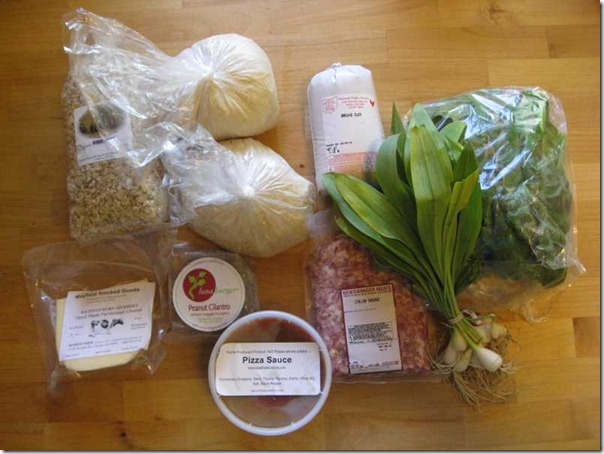 I'm hoping to use the ramps and spinach on pizza this week.
We've never received ground duck before.  We had our choice of duck or chicken.  I've had ground chicken before, so duck was the easy choice.  I'm not sure what I'll do with it, but I am thinking about making wantons and using it in some kind of filling.  The Italian sausage will go well on the pizzas.
I'm excited to try Clark's sauce.  I'll be using it on pizza with this dough.
I've never had the Luna veggie burgers before, but they look delicious.  For now, they are in my freezer.  I'll use Gouda on our pizza too.
Stephen and I eat oats for breakfast most mornings.  These will be gone in no time.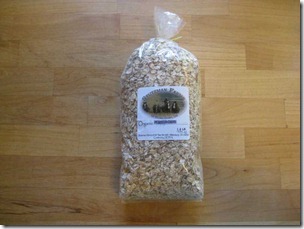 With a few weeks until our next pick up, we stocked up on yogurt.  We were also out of eggs, so I picked up a dozen of them as well.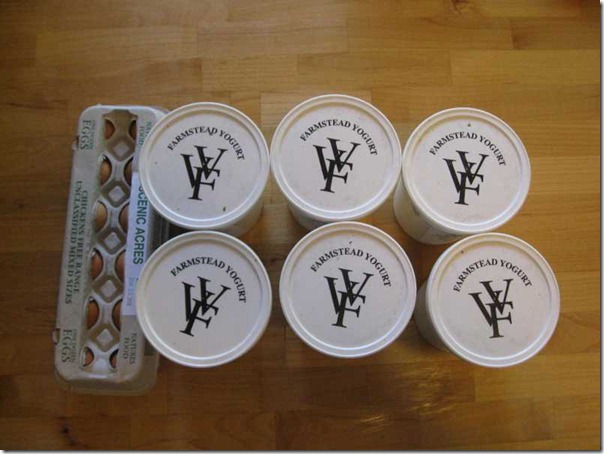 It's been a really fun winter season.  I can't wait for summer to start.