We had plans south of Akron late today and decided to make a day of it.  We left our house around 8:30AM and headed to the Farmers' Market at Howe Meadow.  I love this market!
It wasn't too hot out today, but we still wore our hats to help with the sun.  Since Nick wears glasses, hats are a good option for us.  I was surprised to see this sign about the ATM.  It's probably great for business.  I've been to the market several times in the past and decided that I wanted meat or some other high dollar item that wiped out our cash.
Nick and Sally have seen display bee hives before, but they never seem to tire of them.  I've never had a croissant from Summit Croissants, but they had the biggest line when we were at the market early.  After running into some friends, we found out that if you want a certain flavor, you get there early.  Apparently this is a well known fact among the regulars.  Today, we had a breakfast pie from another booth, but maybe we'll try a croissant next time.
The market set up a bit south of its original location.  It's still in Howe Meadow, but this open space gives them room for more vendors and the market is a bit more spread out.  I think I like the new set up, but it will be hotter during the summer markets.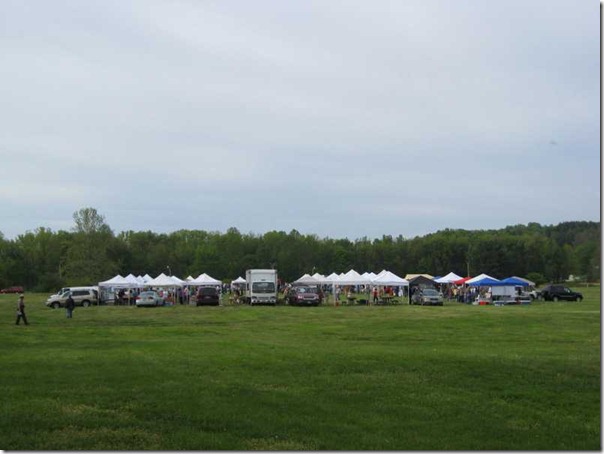 Today's music was Mr. Bob.  He played guitar, harmonica and sang (not all at the same time).  Nick and Sally love the music at the market.  We found out that one of our friends is playing in a quintet here on August 18th, so we'll try to come back that day for sure.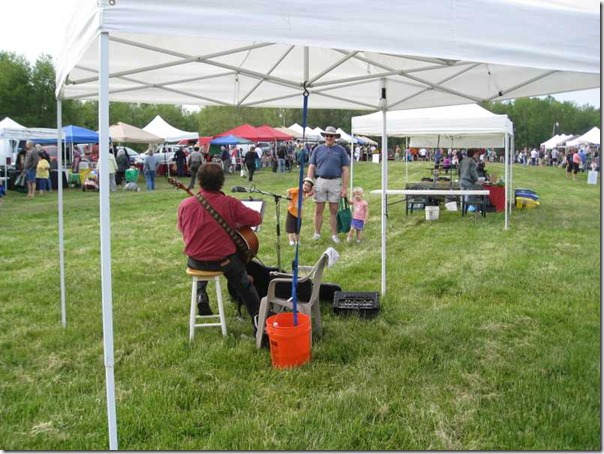 We ran into Diane from Humble Pie Bakery.  It was nice to see a familiar face.  We were surprised to see Mayfield Road Creamery at the market.  We love their cheese and get it from our Fresh Fork CSA often.  Today, we picked up a pack of blue cheese and chipotle gouda.  We also bought 2 jugs of our favorite honey from Schmidt Family Farm.  We told her her honey was the best.  She told us that she'd tell the bees.
We perused the grain selection from Mud Run Farm.  Nick wanted some puff cereal.  It's not hard to get me to buy cereal with one ingredient.  It was only $4 and I thought that was very reasonable.
Before we left, we also purchased a couple of loaves of bread, onion chive cheese, Munster cheese, and some red pepper Ohio City Pasta.  I was prepared with a cooler bag and ice packs since we knew we wouldn't be home until late in the day.
I've only been to a few local markets, but I've always really liked this one.  I'm hoping to visit at least 5 different markets this summer.