Good morning from Love You More Than You Know. Thank you to Lyn for having me as a guest blogger for the Ohio Blogging Association's All State Blog Swap.  Thanks to Alicia for organizing today's swap.
Lyn's blog celebrates the joy of being a mom and taking care of herself and her family.
My experience with taking care of our children and spouses always seems to revolve around food. With my husband, five children, their spouses, and 10 grandchildren so far, someone's always hungry!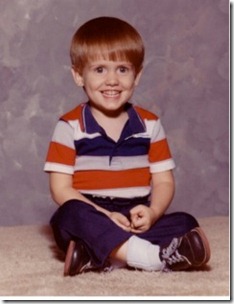 It seems like not to long ago, my children were as young as Lyn's are now. Here is a picture of my son, Joe as a three year old. When he was little, I would bundle him up to face the world safe and snug. Looking into his bright eyes, I would say, "Make sure you wear your boots and jacket and hat!" I never imagined thinking, "Make sure you wear your boots and flak jacket and Kevlar helmet!"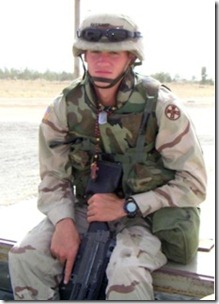 Here is a picture of Sgt.Joe Reinart, at 23 years of age, in the Ohio National Guard, when he was active duty and deployed for 15 months during Operation Iraqi Freedom.
Guess what Joe always asked me to send in his care packages? Joe asked for food because anytime they left their barracks, the soldiers had to be in full body armor and gear. For lunch everyday the soldiers had MREs (Meals Ready to Eat). Sometimes it was just easier to eat what you had in your room and not go out in the heat after working a 12-14 hour day.
So every week, I would shop for groceries in Ohio to send halfway around the world—always buying enough so that my soldier could share with those who didn't receive any packages. Joe made so many chocolate chip muffins from a mix that just needed water and a toaster oven that he became know as the Muffin Man.
For Joe's birthday I sent a "Party in a Box", including streamers, party plates, napkins, cups, candles, candy, party favors (squirt guns) and a banner that read HAPPY BIRTHDAY. I researched on the Internet what kind of cake had the best chance of surviving the extreme heat (temperatures 100-130 degrees) for the two weeks to twenty-one days it might take the package to arrive. The answer was an un-iced angel food cake. To solve the problem of frosting, I added a jar of Nutella, the chocolate hazelnut spread, so that Joe could frost the cake when the package arrived at his barracks.
Sending care packages was a way for my soldier to be connected to home. We made it through Joe's deployment and celebrated when he came home. We continue to have many meals together as a family. The celebration continues as Joe is getting married in July!
I will continue bringing you true stories of our heroes in uniform, sharing with you the bravery and sacrifices that our troops and their families make everyday for all of us. You are invited to share your story about your soldier at Love You More Than You Know as a guest blogger. Send stories to storiesfrommoms@gmail.com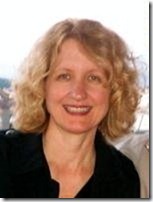 About Janie Reinart
Love You More Than You Know: Mothers' Stories About Sending Their Sons and Daughters to War (Gray & Company, 2009 at Amazon.com)
A storyteller, educator, and freelance writer, Janie seeks ways to give people a voice to tell their own stories through prose and poetry. She and her husband, Ed, are grateful for their five children and grandchildren. Most weekends, you will find Janie praying and singing with the choir at Holy Angels Catholic Church.
Janie's chapter, "Boots to Ground " in Love You More Than You Know, won second place in the National Federation of Press Women's 2010 Communications Contest in the category of a chapter/essay in a nonfiction book. Her chapter won first place in the Ohio Professional Writer's Communications Contest.
Janie's blog Love You More Than You Know is a finalist for the 2012 Milbloggies (6th Annual) Best U.S. Military Parent Blog Award.
******************************************************************************************************************************
Thanks to Janie for sharing her post today.  Her passion for our soldiers is amazing!  I'm definitely going to look into sending a care package to a soldier this year.