Today, the kids and I set out to pick our first Ohio strawberries of the season.  We picked up my mom and headed to Walnut Drive Gardens.  They are located in Mogadore.  Since my mom lives in Akron, this was a good choice for us.  The picking fields are at a different location this year.  For those of you who picked peppers in the past, most of the picking will be at that location this year.  The address for strawberry picking is 2129 Randolph Road.  Randolph Road goes off to the left near route 43.  We actually missed that and kept going straight.  We ended up on Trares Road.  As long as you visualize the directions as you near 43, you'll be fine.  This sign was near the road where Randolph turns near 43.  There was also a big Strawberries sign with an arrow that we past when we got on the wrong street.  I think Walnut Drive Gardens should think about putting on on Randolph near where it veers left.  It's much safe to take the diagonal there too.  But, we found it and that's all that really matters!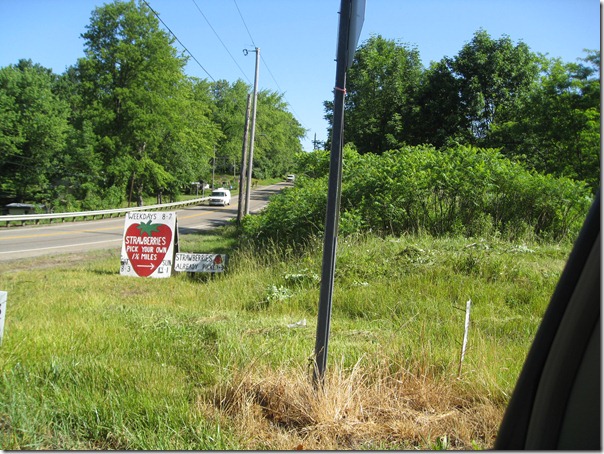 These signs were at the road.  You can't miss it if you are on the correct street.  I will add if you miss where Randolph turns, you'll come up to Congress Lake Road and it goes all the way through to Randolph.  It comes out near Paradise Lake Golf Course.
We stopped at the new red building and picked up baskets for picking.  The attendant gave us directions to go over the hill and park in the grass.  We were able to pick anywhere and the farther back from parking, the better picking should be.
The kids were excited to have grandma along.
The picking was great.  There were tons of ready to eat berries.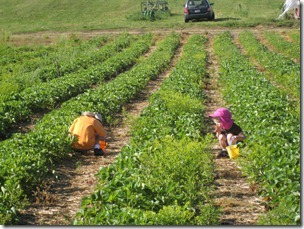 My mom posed with the kids by the field before we left.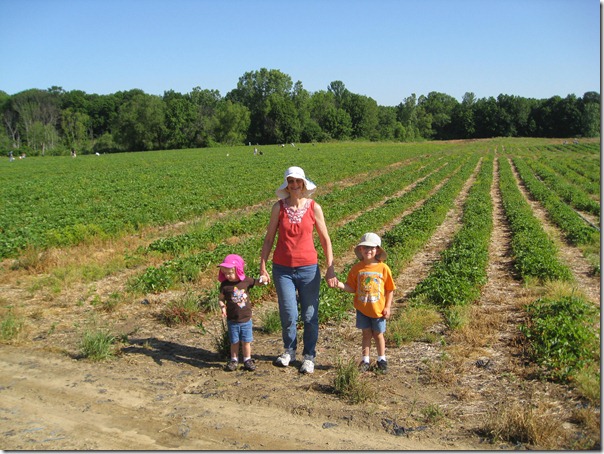 Picking was $13.50 for an eight quart basket.  It was an extra $1 for the basket.  We didn't have to get the berries out of the car to pay.  Instead of weighing them, it's a flat charge for the full basket.  I've read that a quart averages 1.5 pounds.  I had 11 pounds in my basket.  I probably could have fit a few extra berries to make it closer to 12 pounds.
Mom picked a basket as well.  So, we ended up with over 20 pounds of berries during our outing.  The kids had fun and enjoyed a few berries as well.  I was also glad to see a port-a-potty near the picking field.  I didn't ask if they had bathrooms in the new building, but I will try to find out.
We have several other farms to try out for strawberries this year, but I think Walnut Drive Gardens is probably going to be the most reasonably priced.  Hopefully, we'll have time to return.
Most of these berries will be eaten in the next couple of days.  The rest will get frozen for smoothies.  I want to make jam again this year, but that's not in the schedule this week.